A London based female entrepreneur has launched an exciting new food app to help halal diners identify suitable restaurants. Former business consultant, Siddika Jaffer believes The Halal Dining Club could revolutionise the halal food sector by bringing muslim consumers and restauranteurs together. Siddika hopes to take the brand global and tells us all about her plans for expansion….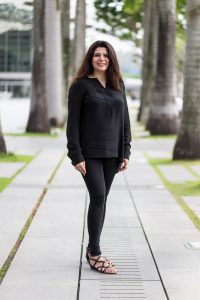 What is the Halal Dining Club?
The Halal Dining Club is a one-stop solution for halal diners to discover great halal dining options, book a halal table and earn points and donate.
Where did you first get the inspiration to start the Halal Dining Club?
I was doing a Masters in Innovation & Entrepreneurship and whilst doing a module on Design Thinking using the Stanford University method, we were thinking about problems that people live with / adapt to because there are no good solutions. My team mates and I observed that dietary restrictions are a massive issue affecting large parts of the population which can make finding a place to dine out a time consuming and frustrating task. The largest of these dietary restrictions is the need to dine halal which is a unifying need shared by 1.6 billion Muslims. This population is large, growing fast, increasingly affluent and hugely underserved. At the same time, we wanted to make sure that as we were solving a problem for diners, we also wanted to solve the problem for restaurant owners in helping them gain visibility to this group of diners and provide solutions that would help them increase their revenues. The final piece of the proposition was the desire to solve a third world problem and helping alleviate hunger and access to clean water. So we designed a way to reward our users for using our products to raise money for the charity causes we support.
Why do you feel there is so much confusion about Halal food in the UK?
Whilst London offers a wide variety and an increasing number of outlets catering for halal diners, this is not the case throughout the UK. Moreover, the discovery element of this is still hugely problematic. Most of the directories type services out there cater for the mainstream population who are not restricted by halal. Therefore for a halal diner, they end up sifting through hundreds of restaurant records to try and find something new and suitable. It is not a case of having no options to dine out in these larger cities, but the need to find somewhere new and different to what the diners already know. In addition, the UK receives a large number of Muslim tourists and for them, the task of finding something good to eat near a location they might be sightseeing at is even more difficult.